wedding on Lake Orta
Intimate wedding on Lake Orta.
The romantic panorama of Lake Orta is a little jewel of Piedmont, a few kilometers from Lake Maggiore. The destination wedding Lake Orta is the perfect place to get married: the quaint little village of Orta San Giulio is an intimate and magical scenario, that interests many foreigners in search of the perfect wedding. In fact it is  one of the most esteemed destinations wedding in Italy. The fantastic wedding venue offers a quiet and amazing beauty, that attracts couples who love nature and uncontaminated landscapes. Its fascinating wealth of history and art, with Roman and Baroque buildings, will enchant you.
You can choose for your wedding reception, between historical elegant villa with beautiful lake views, as Villa Pestalozza, Villa Ortea, Palazzo Gemelli, Penotti Ubertini Villa Decio. Or restaurants and hotels located directly on the lake shore, as the Ustaria Ca dal Rat, Hotel Approdo, Hotel Ristorante Garden and the Hotel San Rocco.
These fascinating places will help you  to discover the most beautiful venues where we will realize your memorable wedding photography service. In this emotional atmosphere, our pictures will make your memories unforgettable.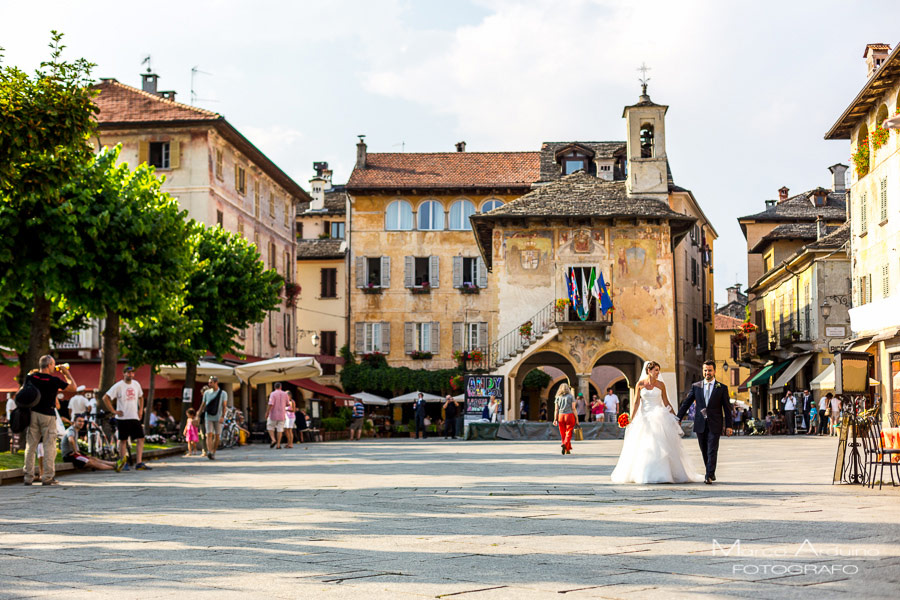 Getting married on Lake Orta.
Lake Orta is the most romantic and unspoiled venue among the Italian lakes; it is a must-see for fairytale weddings. It's not a large tourist hot spot, like lake Maggiore, lake Como or lake Garda, but it has many things to offer. Serenity, wonderful views with breathtaking sceneries, typical cuisine, sunny climate, charm and poetry will surprise you.
You can visit the small historical center of Orta San Giulio, with its ancient colored houses overlooking the little island of San Giulio and its narrow  and romantic streets. You can try the small typical restaurants where you can taste the local cuisine, or you can also experience in the fabulous Villa Crespi. Famous restaurant of Antonino Cannavacciuolo, the much awarded Chef Patron of Relais et Châteaux Villa Crespi, two MIchelin stars and recognition in the most renowned food guides in Italy. The Chef conveys his feelings and thoughts through his own philosophy of cuisine, representing not only his own professional path but also his experiences of life. It is the ideal setting for your unforgettable wedding on Lake Orta.
Do not miss the romantic boat trip around lake Orta, where you can enjoy the beauty of the landscape, and visit the island of San Giulio in the quiet and charming atmosphere of an ancient past. The Sacro Monte Church in Orta San Giulio is another place of great inspiration for your wedding ceremony on Lake Orta. There is a gorgeous view on the lake and its chapels are surrounded by a green park of old trees, where you can realize your dream of love. For a civil outdoor ceremony you can choose Villa Bossi, that overlooks the lake with its beautiful landscape.
Wedding photographer on Lake Orta.
This poetic scenario it will be the ideal place to realize your wedding photography service. Lake Orta is a location that most stimulates our photographic creativity,  searching for new images according to the personality of the couple. It will be a pleasure to meet you and listen to your wishes . I'm a wedding photographer on lake Orta, but I like to depict also important and happy moments, images that capture precious instants you'll always remember, such as engagements, elopements, unique proposals and family portraits.
We are happy to tell with our images, your wedding on Lake Orta.
Lake Orta is a perfect scenary to realize your wedding photography service; in this enchanting landscape,  our photographs will portray your unforgettable memories :  please contact me
Wedding Reportage on lake Orta, please visit: wedding villa Ortea     Villa Crespi
Wedding Venue: Lake Orta.